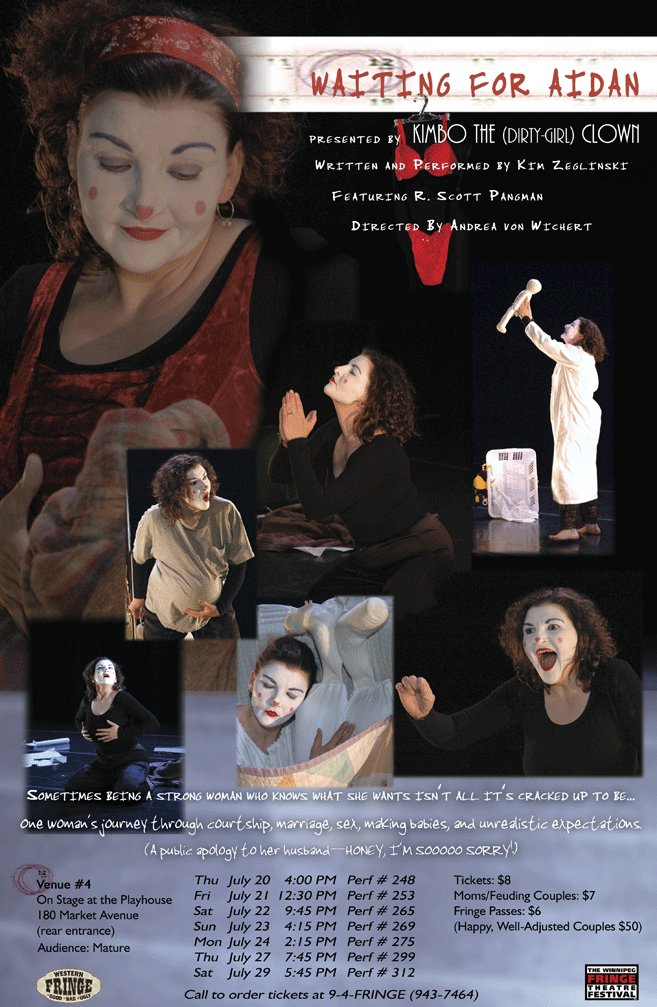 Sometimes being a strong woman who knows what she wants,
isn't all it's cracked up to be.
One woman's journey through courtship, marriage, sex, making babies, and unrealistic expectations.
(A public apology to her husband–Honey, I'm soooooo sorry!)
Waiting for Aidan performed to sold-out houses at the Winnipeg Fringe Festival 2006.
Past Press:
"…an oddball ode to the domestic drudgery of child-rearing…an unruly mix of clowning, mime, music, and physical comedy

…Kim Zeglinski, a self-styled clown…a brunette version of Lucille Ball."

–Morley Walker, Winnipeg Free Press
"The clown work of Zeglinski and Pangman…is accomplished and funny…plenty of those wonderful moments of human joy and pain that are the essence of the clowning art."

–Lara Rae, CBC Winnipeg
"Kim Zeglinski has all the facial expressions, charm and wit of Tracey Ullman, and R. Scott Pangman has a wonderful vaudeville-tramp kind of quality…perfect casting…"

–Peter Vesuwalla, Uptown Magazine
Featured performers:
Kim Zeglinski (Writer-Producer-Performer)

R. Scott Pangman (Performer)
Creative Team:
Director:  Andrea von Wichert

Sound Design:  Dave Zeglinski

Poster Design:  Tim Plett