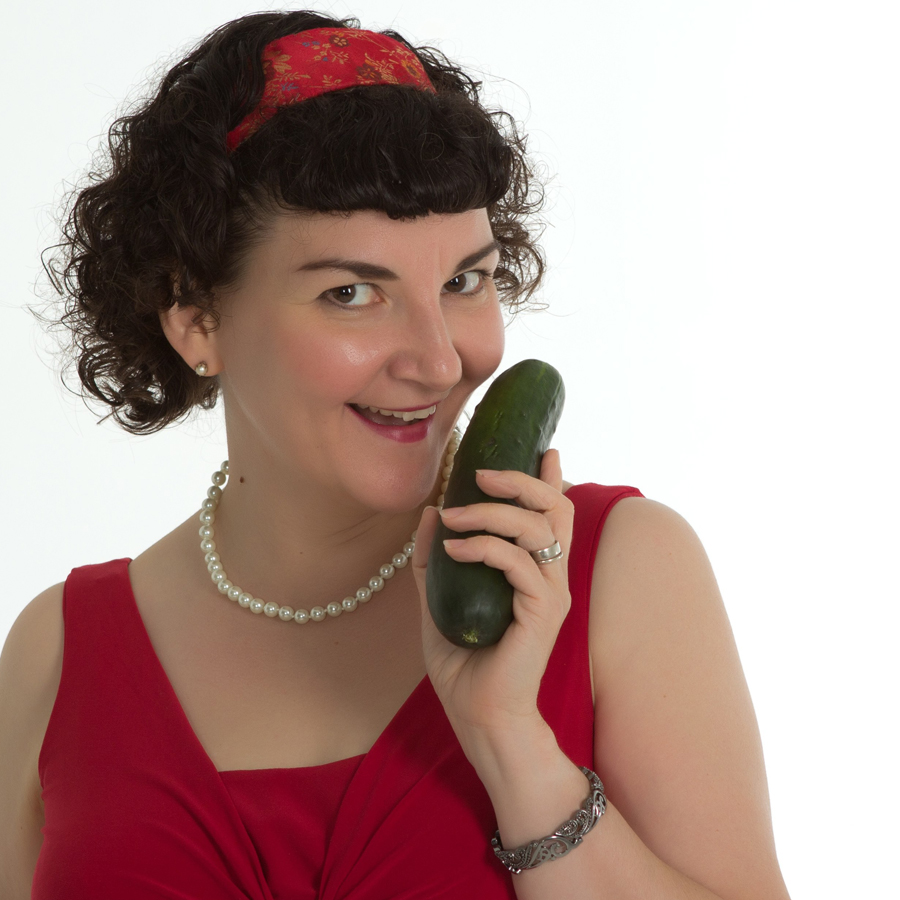 Photo Credit: Rodney S Braun MPA
Kimmy Zee is the production company of Winnipeg-based writer-producer-performer, Kim Zeglinski.
A busy teacher-counsellor, wife, and mother by day, Kim's alter-ego, Kimmy Zee gets many glimmers of inspiration while nighttime bathing. She quickly jots down these stream-of-consciousness ramblings, sometimes using her husband as scribe, adds a lot of hyphens, calls a lot of creative friends, procrastinates a whole lot, and finally turns them into her quirky, honest, shoot-from-the-hip, signature-style monologues.  The result is a knock-em-dead hour of poignant truth-telling, and laugh-out-loud fun.
Self-Produced Fringe Festival Credits Include:
MIDDLEhood (2016-Present) aka Mittelschmerz (2014-2015) ★★★★1/2
Nominee for 2014 Manitoba Association of Playwrights' Harry Rintoul Award for Best New Manitoba Play!
Stretchmarks 2012 ★★★★
Winnipeg Fringe Best of Fest!
Breast Friends 2010 ★★★★★
Waiting for Aidan 2006 ★★★★
Other Credits:
SLAM! 2017 Winnipeg Fringe
TEDx Winnipeg 2015
The Bush Ladies: In Their Own Words 2008 Winnipeg Fringe Best of Fest!
Sarasvàti's Femfest 
Girls! Girls! Girls! Cabaret Gas Station Arts Centre Annual Fundraising Gala
The Winnipeg Poetry Slam 2014-15 Semi-Finalist!
Trivia: Kimmy Zee is formerly known as Kimbo the (dirty-girl) Clown, who produced the 2006 production of Waiting for Aidan.  The company name changed when Zeglinski realized how many people actually hate clowns.  Since Kimbo the Clown's life was terminated during the live performance of Breast Friends, it seemed only suitable to retire the former production company name along with the character of Kimbo.
Reviews:
"…this clever writer-producer-performer…finds both lots to say and truly original ways to say it in this one-hour, one-woman, high-energy show…Zeglinski has a hold of (the audience)…with honest revelations that never lose the funny. Much of the humour stems from Zeglinski's rapid-fire delivery…the ease with which she morphs from character to character…keeps things moving forward smoothly."
–Julie Carl, Winnipeg Free Press
"This clever piece is well staged, using minimalist design to convey a number of different images associated with womanhood. The jokes are spot on…Definitely a frank and mature humour, Kim Zeglinski's physical work is where the show truly shines."
–Kendra Jones, CBC Manitoba Online